CES Parents, The waivers that were put in place for Choudrant schools to serve free meals are expiring June 30. Our school will return to the normal meal application process this fall. The meal prices will be the same as they were from 2019. Breakfast will be $1.25 and the reduced price will be $0.30. Lunch will be $1.50 and the reduced price will be $0.40. The meal payment information will be posted on our website once we have received additional information from the state department for meal application.
If you have not picked up your report cards, please stop by before June 10. Our summer office hours are 7:30-3:00. I have attached school supply lists. They can also be found on our school website. Hope you are enjoying your summer and keep reading.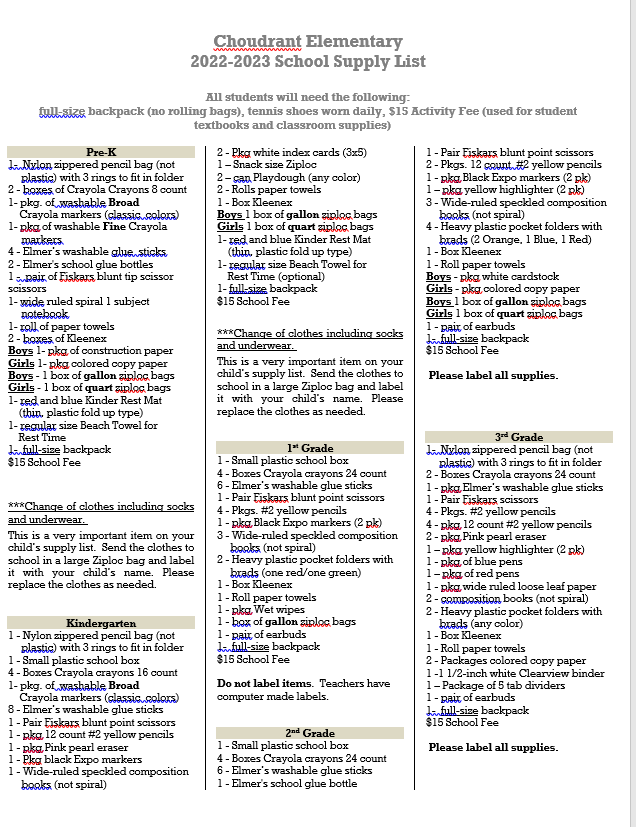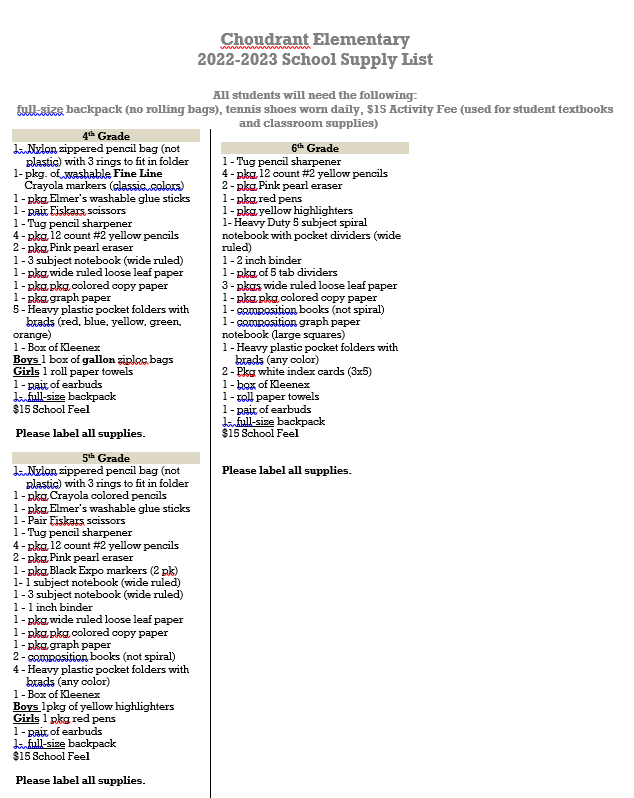 Field Day and Kona Ice is tomorrow. Pre-K-2nd grade Kona Ice will cost $3 3rd grade-6th grade will have a bigger cup for $4 Parents are welcome to attend. Please park on Walker Road or in back parking lot.
Congratulations to the CHS baseball team!! They won today and will play Friday in the Championship. We will be closed Friday to allow families to attend the game in Sulphur.
Just a reminder: CES is closed tomorrow to allow teachers, students, and families to attend the CHS baseball semifinal baseball game. Enjoy your day and go Aggies!!!
Congratulations to CHS baseball team. Last night's win has earned them a spot at the State Championship Tournament in Sulphur on Wednesday. CES will CLOSE school Wednesday to allow families the opportunity to go cheer for our favorite baseball team at State.
Teacher Appreciation Week: May 16-20 PTC has created a sign up online for parents to donate items for the snack cart and to stock the fridge in the teacher's lounge. To donate items, please go to
https://www.signupgenius.com/go/30e044caaaf29a6f49-snack
. You can also send $5 - $10 to school in an envelope or ziplock bag labeled PTC, and we will pick it up on Thursday, May 12. PTC will use the money for teacher and staff gifts. Other ways to show your appreciation during this week: Monday- Bring a flower to a staff member. Either choose 1 from your garden or purchase one. Tuesday- Make a card Wednesday- Bring a sweet treat. Friday- Smile day! Anything that you think would bring a smile to someone's face. Thank you for all you do to help make CES so wonderful!!
Pre-K & K Easter Egg hunts will be on the back playground. Please park in the back parking lot.
Power has been restored and we will have school as usual today.
We are without power this morning but we are still planning to have school. Breakfast is ready to be served. We are talking to Entergy and hope to have power back by 9:00 this morning. If that is not possible, we will make a plan for next steps. Our hope is that power is restored and we have school as normal.
Aggie Fun Run is this Friday. Students need to wear comfortable running clothes and tennis shoes. Please remember to bring a water bottle. All students are encouraged to participate even if they can't run the entire time. Parents are welcome to come and cheer on the students. Run times are: 6th grade- 8:00-8:30 5th grade-8:30-9:00 Pre-K- 9:00-9:30 1st grade- 9:30-10:00 2nd grade-10:00-10:30 Kindergarten-10:30-11:00 3rd grade-12:30-1:00 4th grade-1:00-1:30
The bad weather has passed and we have resumed our normal schedule.
Parents, We are under a tornado warning. All students are in a safe location and accounted for.
Parent, Spring Portraits will be Friday, April 1st. I am attaching a copy of the order form. Your child will also bring and order form home either today or tomorrow. This is only for anyone who wants to purchase pictures. If you have any questions, please call the school office at 318-768-4106.
https://5il.co/17rwe
A few reminders: Thursday is our last home basketball game. Girls play at 6:00 and boys play at 7:00. No school Friday, March 11 for students. It will be a teacher work day. Spring break March 12-20.
Parents, The weather is warming up and our students are drinking more water. Please get with your child's teacher and ask if her class is low on water bottles if you are interested in donating bottles of water. We are asking that every child bring a water bottle daily and the classroom supply is for times when a child forgets or runs out during the day.
Parent, Attached is information concerning the upcoming Pre-K Roundup. This will be at the Lincoln Parish Library Events Center on March 24th.
https://5il.co/16218
Read Across America Day has been a day created by the National Education Association (NEA) to celebrate reading since 1998. The NEA chose Dr. Seuss's birthday to get children excited about literacy and reading, much like a pep rally for football. So, we want to help cheer our students on as they develop a love for reading especially this week. Wednesday, March 2 will be Book Character Dress Up Day. We also will have a Book Swap on Friday, March 4. Please send gently used books that you would like to donate to our school by Wednesday, March 2. On Friday, all students will get to shop for a new book to take home. We want EVERY student to have a new book to read.
Please join us in spreading cheer with Two's Day on Tuesday, 2-22-22. We invite teachers and students to come to school wearing a tie, tutu, dressed like a twin, or wearing 2 of anything. Happiness is the only thing that multiplies when you share it.
Parents, We have temporarily lost electricity. We have talked to Entergy and it should be back on soon. We are still having class and dismissal will stay as scheduled. 4th & 5th grade after school tutoring will continue as normal.